Our Philosophy
A Bright Beginning Child Care strives to provide a learning through play environment which makes provision for the development of the whole child -social, emotional, physical and intellectual. We recognize that each child requires nurturing adults who will encourage exploration of the environment, interaction with peers and self-expression.
Our goals are to provide an environment which values individual children and families, respects their uniqueness and nurtures their growth and development.
We allow children to be individuals by allowing them to play in developed learning centre are which interest them. We also encourage them to express their unique feelings and ideas by providing positive reinforcement. We are aware that children test limits set for them, but by being consistent we endeavor to teach them co-operative living and the need to respect the rights of others.
The Centre strives to create conditions in our environment which reflects the goals and values of our multicultural society and teaches children the uniqueness and the importance of each other's background and lifestyle.
We encourage safe ways to express feelings without hurting others or damaging equipment.
We help the child to understand their world better by reasoning and providing simple explanations.
We believe that good listening habits practiced by both adult and child enhance communication and produce a good learning environment.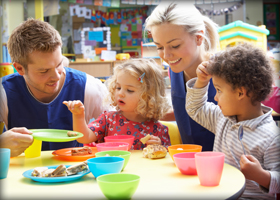 Parents are partners with staff in guiding their child through these key developmental years. An "Open Door" Communication Policy encourages parental involvement and communication between parents and staff.
Staff are viewed as role models and professionals who take part in the education process of children. Professional development is a commitment. Each individual is encouraged to further develop their skills and expertise within their profession. To do this we support the Grande Prairie Regional College – Early Child Development diploma program.
Our goal is to implement an educational program that incorporates the needs and development of the child through the art of play and to assess the program regularly to ensure that the child's needs are being met.
A Bright Beginning
Child Care Centre
Phone:
780-532-9170 (EY),
780-533-5174 (OSC)
Email:
abrightbeginning@hotmail.ca (Early Years) abc.osc@hotmail.com (Out of school)
Admin Director: Marietta Stephen
Program Director: Denise Morgan
10226 108 Ave
Grande Prairie, Alberta
T8V 1P5